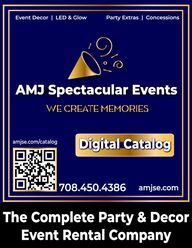 Return to flip book view
Catalog
Page 1
DIGITAL CATALOG
DIGITAL CATALOG
Page 2
Standard Jumps
Young Ones
Deluxe Jumps
Water Fun
Obstacle Courses
Inflatable Slides
Extreme Fun
Inflatable Games
Misc Inflatables
Classic Carnival Games
Picnic Games
Deluxe Games
Arcade Games
Novelties
LED Glow
Table of Contents Table of Contents
Frame Games
Concessions & More
Tents/ Tables/ Chairs
Entertainers
Search Lights
Photography & More
Audio/ Video
Casino Games
Costumes
Photo Stands
Holiday Rentals
Holiday Decor
Party Extras
Party Packages
Policies & Procedures
FAQ's
Page 3
Santa s Workshop Grinchmas Scene Old Man Nutcracker with Toys Holiday Rentals click to call: 708-450-4386
Page 4
Traditional Christmas Scene with Santa s Throne Winter Scene with Santa s Throne Christmas Scene with Gingerbread Family Santa Statue with Giant Candy Canes Retro Christmas Scene Christmas Scene with Sleigh Christmas Scene with Santa s Bench Holiday Rentals click to call: 708-450-4386
Page 5
Christmas Scene with Santa Statue Playful Penguins Holiday Rentals click to call (708) 450-4386
Page 6
Chicago Skyline with Picasso Statue Blues Brothers Statues Chicago Theater Marquee with Skyline Buildings Picasso Statue Navy Pier Ferris Wheel Chicago Sox Sign Chicago Skyline Wrigley Field Cubs Sign Holiday Rentals click to call: 708-450-4386
Page 7
Battle Axe Glow AMJ LED Glow Glow 3 Hole Mini Golf PONG PONG Retro Retro Arcade Arcade Game Game
Page 8
Page 9
Page 10
Page 11
Page 12
Page 13
Page 14
Page 15
Page 16
Page 17
Page 18
Page 19
Page 20
Water fun
Water games
water rides
Page 21
Water fun
Water games
water rides
Page 22
Page 23
Page 24
Page 25
Page 26
Page 27
Pirate Ship Revenge
Carnival Ride... (4hr rental)
The Pirate's Revenge Carnival Ride
is just like the swinging Pirate Ship
at the Major Amusement parks but
on a smaller scale. Adults and Children can ride in this incredible ride...
Funtime Event Services provides operators and a generator for this mechanical ride.
Climb aboard the Pirate's Revenge carnival ride for a sail across
the 7 seas!
Pirate Ship Revenge Carnival Ride
Page 28
GIANT
Dizzy X
4 Person
Inflatable
Page 29
Inflatable Games
Inflatable Games
Page 30
Page 31
Page 32
Miscellaneous Inflatables
Page 33
Page 34
Page 35
Page 36
Page 37
2 and 4 player basketball game
water fun basketball game
giant battleship
Page 38
Page 39
Page 40
Page 41
Page 42
Page 43
Page 44
The Vault Game Interactive Light Game Spider 2000 Challenge Dart Arcade Rental
Page 45
table top bowling
pong arcade games
personalized name tags roller ball game
gear up game
table top ring toss
Page 46
Page 47
Page 48
Page 49
Page 50
Page 51
Page 52
concessions
caramel corn
cheese corn cart
mini donuts mobile donut bar
Page 53
Page 54
Page 55
Page 56
search lights speciality lighting
Page 57
photography photo booths photo fun
Page 58
photography photo booths photo fun
Page 59
Page 60
Page 61
Page 62
Page 63
Page 64
Page 65
Page 66
smores
churros
white boards
street signs
cookie station
green screen fun
Page 67
Page 68
Page 69
Fun Trackless Kiddie Trains The AMJ Spectacular Express
Page 70
Hear more about Party Packages
Page 71
Page 72
Page 73
Page 74
Page 75
Page 76
Page 77
Page 78